ENTER
HERE
virtual exhibition curated by Ozziline Bill & Brenna Horrox a.k.a
@bodyodorstudios
designed in collaboration with architect Daniel Pope
As we float between url & irl so does SOAP - inverting exhibition-going culture within a gaming software and embracing the ever growing cultural production of online communities. Thereby creating a space to ask what can be learnt from these amalgamations and offering an alternate connectivity for artists to thrive off.
install shots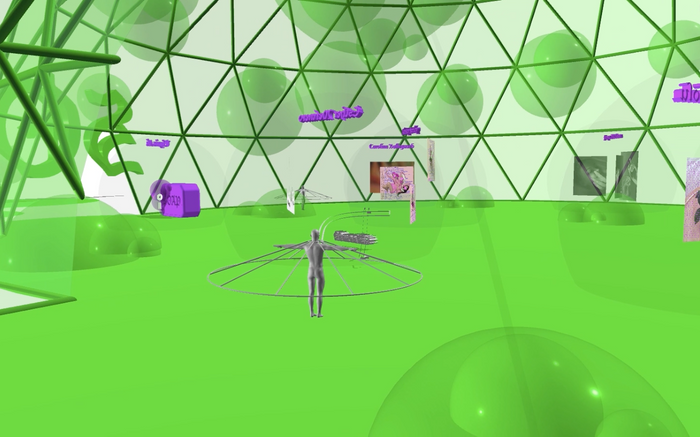 press release continued
The participating SOAP artists are Caroline Ballegaard, David Lisbon, Don Elektro, Esther Merinero, Freya McLean, Harry Grundy, Kirsty Sorley, Ludovica Bulciolu, Ozziline Bill, Samantha Watson, Tigris Li and Tommy Camerno & Lee Stevens.
SOAP is about the spaces in which we view art; the possibilities within our now prevalent virtual life are explored and boundaries of the online interface pushed. With cultural institutions closed, SOAP considers the architectural experiences which normally impact our perception of an artwork when visiting a physical gallery.
SOAP provokes this by creating a somewhat alien architectural language, symbolic of the uncharted territory we now exist in and have to adapt our ways of seeing to.
Designed in collaboration with architect Daniel Pope, the SOAP geo-domes and gridded mega-spheres are an artwork in themselves. Our on screen experience of art is elevated as we enter the virtual SOAP bubble.
SOAP is a virtual group show of digital artworks responding to Covid-19. Existing in webspace, SOAP imagines a new world for artists to exhibit in during lockdown. The artworks displayed react, reflect and embody this strange and significant time.
Curated by Brenna Horrox and Ozziline Bill (Body Odor Studios).